智能金融 Intelligent Finance
智能金融是以人工智能为代表的新技术与金融服务深度融合的产物,它依托于无处不在的数据信息和不断增强的计算模型,提前洞察并实时满足客户各类金融需求,真正做到以客户为中心,重塑金融价值链和金融生态。
Intelligent finance is the product of the deep integration of new technology and financial services represented by artificial intelligence. It relies on the ubiquitous data information and the ever-increasing computing model to gain insight into and meet the various financial needs of customers in advance and in real time, so as to truly take customers as the center and reshape the financial value chain and financial ecology.
智能金融是金融科技发展的新阶段,也是科技与金融融合的第三个阶段。不同于早期电子金融时代的由"点"到"线"发展和线上金融时代的由"线"到"面"变革,智能金融拓展了金融服务的广度和深度,践行了普惠金融梦想,实现了金融服务由"面"向"立体"的跨越。
Intelligent finance is a new stage of the development of financial science and technology, and also the third stage of the integration of science and technology and finance. Unlike the development from "point" to "line" in the early electronic finance era and the transformation from "line" to "face" in the online finance era, intelligent finance has expanded the breadth and depth of financial services, fulfilled the dream of inclusive finance, and realized the leap from "face" to "three-dimensional" in financial services.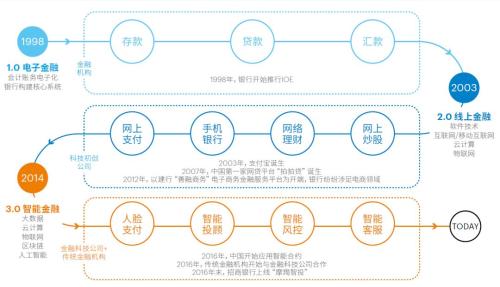 智在技术,胜在应用。智能金融四大关键技术——人工智能、区块链、云计算、大数据有望在金融行业焕发出勃勃生机,并共同发挥作用。其中,尤以支付、个人信贷、企业信贷、财富管理、资产管理,以及保险六大板块为重。
Wisdom in technology is better than application. Four key technologies of Intelligent Finance - Artificial Intelligence, Block Chain, Cloud Computing and Big Data - are expected to shine with vigor in the financial industry and play a role together. Among them, payment, personal credit, corporate credit, wealth management, asset management, and insurance are the six major sectors.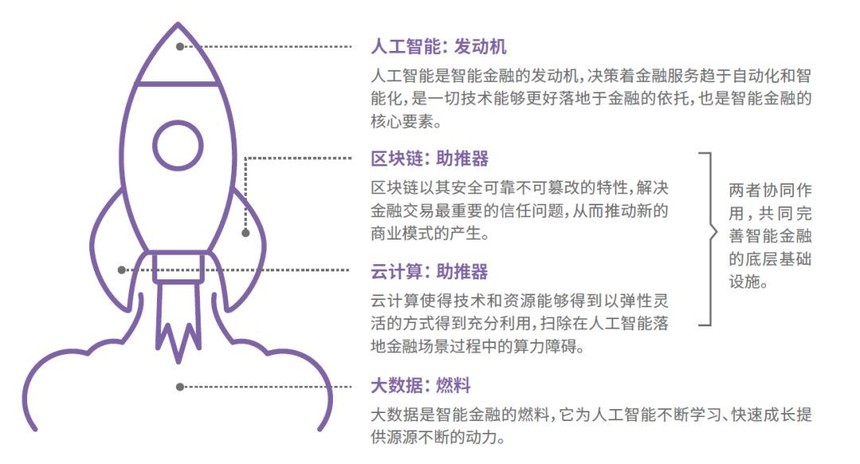 智能金融已经为金融创新开创了一个新时代,智能技术突破发展、场景应用加快落地、业界机构深化合作将为智能金融发展带来新动能。在此背景下,企业更需加以关注,确保在智能金融应用的道路上紧跟时代趋势。
Intelligent finance has opened a new era for financial innovation. Breakthrough and development of intelligent technology, accelerated landing of scenario applications and deepened cooperation among industry institutions will bring new momentum to the development of intelligent finance. In this context, enterprises need to pay more attention to ensure that they keep up with the trend of the times on the road of intelligent financial applications.
推荐

---
QQ好友

QQ空间

腾讯微博

新浪微博

人人网

豆瓣